Danish Batter Ball Pan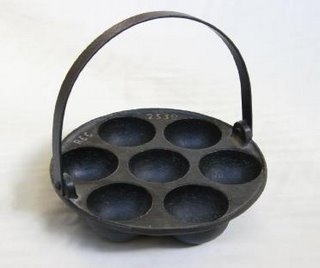 The full text of this story Raising Dough for Denmark

can be found in PRODESiGN 84, August /September 2006, p.58.


What we know, and

what we still want to know

.
Artefact 1990/546 was donated to the Kauri Museum in Matakohe, where it was classified as an Egg Poacher. Visitor Ingrid Thomas recognised it as identical to a pan she had at home and encouraged her mother Vera Stanton, then 90, to write down recollections of her own mother Mary Nielsen's entrepreneurial efforts in introducing this product to New Zealanders.
A PANHANDLING RESPONSE TO DEPRESSION
When Mary and Niels Nielsen arrived from Copenhagen in 1905 and settled in Christchurch, Niels found employment as a fitter and turner with New Zealand Railways. Mary worked on the home front making ends meet while raising four daughters and dreamed of returning to Denmark for a dose of familiarity. In 1927, at the age of 43 when her daughters were aged from 12 to 24, she cooked up a plan to cure her homesickness.
Mary decided to offer something not available in New Zealand – cast iron pans designed for baking Danish batter balls, a traditional pre-Christmas treat. Niels made the pattern 'as he remembered it' and Mary's application for design registration was received at the Patent Office on 7 January 1928 (granted 8 March 1928). Booth Macdonald's Christchurch foundry cast the pans and Mary, with a team of six helpers, embarked upon a five year selling programme across the length and breadth of the North and South Islands.
What happened to the Booth Macdonald foundry in Christchurch?
Does anyone know where the original pattern, Reg 2539, might be?
What makes Mary's enterprise even more impressive was that it got underway just as the Great Depression began. Export prices fell by 40% between 1928 and 1931. Public Service wages were cut by 10% in both 1931 and 1932. By 1932 the Christchurch Mayor's Fund dealt with 10,000 applications per week for relief. Nationwide unemployment reached 51,000 (women were not counted) by October 1933. At that time a return trip for two to Denmark would have cost more than a year's wages – the average weekly wage of a fitter and turner was £4/2/6 ($8.50). The New Zealand pound was further devalued in 1933 so that it took NZ£125 to buy £100 sterling.
The pan design seems to date back to earlier days of cooking over open fires, hence a hoop handle which can hang on a hook. Although electric and gas stoves were in production in the 1930s, the coal range remained at the centre of many households well into the 1940s. Gas and electricity showrooms happily hosted public demonstrations of the Batter Ball Pan before Mary and her team of canvassers went from door to door. While the pan design was directly adopted from Denmark, the product that was made in it was adapted to New Zealand tastes.
In Denmark the 'æbleskivepande' is used to make 'æbleskiver' ('apple slice') – a hollow ball of pancake mix which is usually dusted in sugar and sometimes filled with jam (see recipe). Stove-top rather than oven cooking is required as the balls need to be turned in the process of cooking. They are usually consumed with gløgg – similar to mulled wine. It seems that the slice of apple embedded in the original æbleskiver is no longer a compulsory component. In New Zealand there is evidence that each depression in the pan was used to make a 64mm dia mini meal. "Cook bacon first and then add egg and it looked like a rose baked in an oven," recalled Vera, Mary Nielsen's daughter.
Does anyone recall 'square meals in round holes', or anything else, cooked in these pans?
It seems that Mary's iron casting Reg 2539 sold like hot cakes (what else?) because the return visit to Copenhagen did take place. When Mary and Niels returned the pans were again put to good use. "The Smith Family fund put on an All Nations Fair and the Danish stall was run by my mother. She had seven pans working. There would be four queues waiting to buy a Batter Ball for one penny [the price charged to go fishing on the Sumner pier during the depression]. Dusted with icing sugar they were a meal to the hungry out of work people." They lasted a week and must have been good value because Vera, who would have been about 27 then, recalled people walking away with "sugar bags full to bursting, but no one counted them!"